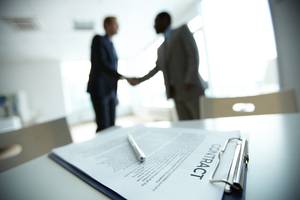 Businesses use contracts for a variety of purposes, and these agreements can ensure that both parties fully understand their rights and requirements while also detailing how matters will be handled if one party fails to follow the terms of the agreement. In a previous blog, we looked at the elements needed to make sure a contract is valid and enforceable. As a follow-up, we wanted to discuss the terms that may be included in a contract to protect the parties and ensure that they will meet their obligations.
Types of Clauses That May Be Used in Business Contracts
A contract will detail the rights and duties that apply to each party, and it will also specify relevant dates, such as when work will be completed or products will be delivered. It will also include information about payment, including the amount that will be paid and the methods and dates of payments. In addition to this information, the parties may include a number of other clauses that address issues such as:
Severability - These clauses will ensure that a contract will be enforceable even if certain terms are found to be invalid. Without this type of clause, if one provision of the contract is found to be unenforceable, the entire contract may be invalidated.

...