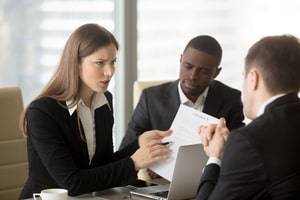 There are multiple different types of situations where business litigation may be necessary to address losses or other damages that have affected a company. These cases may involve contract disputes, violations of non-compete agreements, or other situations where a business seeks to recover compensation for losses. However, some business disputes may involve fraud or other criminal actions, and if a plaintiff can demonstrate that another party violated the law, they may be able to recover additional compensation through Florida's Civil Theft Statute.
Remedies for Civil Theft
Fraud and other forms of theft can significantly affect a company. When another party acts with intent to cause harm or otherwise engages in deceptive practices meant to benefit them financially, this can result in substantial losses. Fortunately, a business that has been the victim of fraud or theft may pursue compensation under the Civil Theft Statute, and if they are successful, they can receive treble damages. This means that they may receive three times the amount of the actual monetary losses they experienced because of the theft. A defendant may also be required to pay a plaintiff's attorney's fees.
Demonstrating that theft has occurred is not always easy. Florida courts have ruled that a plaintiff must show that a conversion occurred in which money or assets belonging to one party were illegally transferred to another party, and the defendant must have acted with criminal intent to deprive the plaintiff of property or benefits they would receive from ownership of property. These cases require a "clear and convincing evidence" standard, meaning that based on the evidence, a plaintiff's claims must be substantially likely to be true.
...