The Elliot Legal Group, P.A. Offices | Fort Lauderdale and Miami
3101 N. Federal Hwy., Suite 609,
Oakland Park, Florida 33306
Our Lawyers are Licensed and Providing Representation in the Following Locations:
Florida, Washington D.C., England, and Wales
Fort Lauderdale
754-332-2101
Miami
305-399-3832
Contact Our Firm
NOTE: Fields with a
*
indicate a required field.
How would you prefer to be contacted?
E-Mail
Phone
No Preference
Briefly describe your legal issue.
*
The use of the Internet or this form for communication with the firm or any individual member of the firm does not establish an attorney-client relationship. Confidential or time-sensitive information should not be sent through this form.
I have read and understand the Disclaimer and Privacy Policy.

What Should an Employer Include in an Employee Handbook?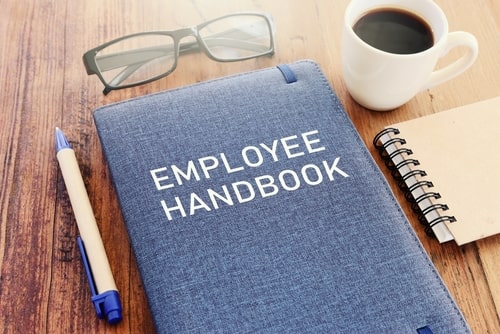 An employee handbook is a valuable tool that provides essential information to employees about their rights, responsibilities, and the policies and procedures of the company. It sets expectations for behavior and helps maintain consistency for all employees. It is crucial for employers to create comprehensive employee handbooks that are tailored to the specific needs of their companies, and they can do so with the help of an attorney who has a strong understanding of the laws that affect employers and employees.
The Importance of an Employee Handbook
An employee handbook serves multiple purposes:
It promotes clear communication between an employer and their employees.

It establishes consistent rules and guidelines for all employees.

It outlines company policies on various matters such as time off, dress codes, harassment prevention, etc.

It informs employees about their rights and obligations within the organization.
An employee handbook should include the following:
1. Introduction
The handbook should begin with an introduction that provides an overview of the company's mission, values, and culture. This section sets the tone for the rest of the document and helps employees understand what is expected of them.
2. Employment Policies
This section should cover important employment policies such as equal opportunity, anti-discrimination, harassment prevention, attendance and punctuality requirements, dress codes, drug-free workplace policy, and any other relevant policies specific to an employer's industry or organization.
3. Code of Conduct
A handbook can outline acceptable behavior within the workplace. A code of conduct may address topics such as professional ethics, confidentiality obligations, social media usage guidelines, conflicts of interest, and any other rules or regulations that govern employee behavior.
4. Compensation and Benefits
A handbook may provide information about compensation structures, including pay scales or salary ranges based on job positions or levels within the organization. It can also outline benefits such as health insurance coverage options (including eligibility criteria), retirement plans, and paid time off policies, which may include vacation days, sick leave, personal days, holidays, bereavement leave, maternity/paternity leave, family medical leave, and other leave that may be available to employees under state or federal laws.
5. Work Schedules and Time Off
A handbook should clearly define the standard work schedule, including start and end times, lunch breaks, and any other relevant information about working hours. It should also outline the process for requesting time off, procedures for addressing absences or tardiness, and any policies related to flexible work arrangements or remote work.
6. Performance Expectations
Expectations for employees should be outlined, including job responsibilities, quality standards, evaluation processes (such as annual reviews), promotions and career advancement opportunities within the organization, and productivity goals, which may include targets, quotas, benchmarks, or key performance indicators (KPIs).
7. Training and Development
An employee handbook should include information on training programs available to employees to enhance their skills or knowledge relevant to their roles within the company. This may include both internal training initiatives as well as external resources that employees can access.
8. Safety and Security
Workplace safety guidelines should be addressed, and a handbook may detail emergency evacuation procedures, fire safety protocols, procedures for reporting accidents, and workplace violence prevention measures. Security issues may also be discussed, including data security policies and confidentiality obligations regarding information about customers and vendors.
9. Grievance Procedures
A handbook may outline the process that will be followed in situations where employees wish to raise concerns or complaints within the organization. It should include information on how grievances will be addressed, who employees can contact if they have a complaint, and any relevant timelines or steps involved in resolving these issues.
10. Termination Policies
An employer should clearly outline the policies and procedures related to termination of employment, including grounds for dismissal, disciplinary processes, exit interviews, etc.
Contact Our Fort Lauderdale Employment Law Attorney
If you need assistance with creating an effective employee handbook that complies with all relevant laws and regulations, the experienced Broward County employment contract lawyers at The Elliot Legal Group, P.A. are here to help. We understand the importance of having comprehensive policies in place to protect your business and ensure fair treatment of your employees. We can make sure your employee handbook meets all legal requirements while providing you with the legal protections you need. Contact us today at 754-332-2101 to set up a consultation.