The Elliot Legal Group, P.A. Offices | Fort Lauderdale and Miami
3101 N. Federal Hwy., Suite 609,
Oakland Park, Florida 33306
*Licensed in England and Wales, Florida and Washington D.C.
Fort Lauderdale
754-332-2101
Miami
305-399-3832
Contact Our Firm
NOTE: Fields with a
*
indicate a required field.
How would you prefer to be contacted?
E-Mail
Phone
No Preference
Briefly describe your legal issue.
*
The use of the Internet or this form for communication with the firm or any individual member of the firm does not establish an attorney-client relationship. Confidential or time-sensitive information should not be sent through this form.
I have read and understand the Disclaimer and Privacy Policy.

2 Ways to Settle a Florida Business Dispute Outside of Court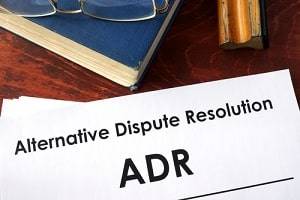 As a business owner, you have likely experienced your fair share of conflict in the workplace. Whether it is an undependable employee or frequent arguments between two employees or a business partner, running a successful business is a difficult task that requires patience, understanding, and a strong hand when necessary. Rising disputes in the workplace can lead to a toxic work environment for everyone, even those who are not involved in the conflict. While going to court to end the dispute is an option, you should consider the two following alternatives before spending the time and money in litigation.
Mediation
Mediation is typically the starting point for business owners who are noticing a dispute emerging. This form of alternative dispute resolution resolves misunderstandings with a neutral party present to manage the process. Mediation is not as structured as litigation and can allow the two disputing parties to discuss their grievances in a private, relaxed setting before getting a judge involved. The mediator is hired to manage the discussion, speaking privately with each party, or bringing the two parties together for further discussion. The mediator's job is to help the two parties come to a voluntary agreement, not to take on an authoritative role and choose for them.
Mediation offers a number of benefits to businesses, the most important being the confidentiality that goes along with the process. Litigation is a very public solution, with both parties hashing out their grievances in front of a courtroom. Mediation provides a private, confidential environment for both parties to discuss their issues and come to a mutually agreeable solution. If successful, mediation can help both parties move forward with a more positive relationship, while litigation can leave the two individuals parting with ongoing anger or frustration.
Arbitration
Arbitration is a happy medium between mediation and litigation. In this form of dispute resolution, the dispute will be submitted to an impartial third-party—known as the arbitrator—for a final and binding decision. Similar to a trial, the arbitrator will make the final decision, with the disputing parties having no choice in the matter, but there are limited discovery and simplified rules of evidence. The arbitrator will be provided relevant documents for review and will submit an opinion after reviewing the case. Both parties will be able to present their case, but there are typically no witnesses or other court processes involved. If you are looking for a more formal, structured form of dispute resolution but would like to remain outside of the court, arbitration may be your best option. Similar to litigation, you are provided a binding decision, but it is a more confidential and flexible way to come to an agreement on the dispute.
Contact a Broward County Business Dispute Lawyer
If you are noticing rising tension in the workplace or have seen multiple occurrences of conflict, you may need to seek out legal assistance for resolving these issues. The legal team at Elliot Legal Group is prepared to help you come to a resolution on the matter, whether that is through a form of alternative dispute resolution or in court in front of a judge. Attorney Elliot will help you determine the best way to address these issues and resolve them in a timely manner. With over a decade of experience assisting Floridians with their businesses, Gavin Elliot is dedicated to assisting you with your legal needs if you are a business owner. For help determining how to best resolve business conflicts, contact our accomplished Fort Lauderdale, FL business law attorney at 754-332-2101 to schedule a private consultation.
Source:
https://www.thebalancesmb.com/resolve-business-disputes-with-arbitration-398748