The Elliot Legal Group, P.A. Offices | Fort Lauderdale and Miami
3101 N. Federal Hwy., Suite 609,
Oakland Park, Florida 33306
*Licensed in England and Wales, Florida and Washington D.C.
Fort Lauderdale
754-332-2101
Miami
305-399-3832
Contact Our Firm
NOTE: Fields with a
*
indicate a required field.
How would you prefer to be contacted?
E-Mail
Phone
No Preference
Briefly describe your legal issue.
*
The use of the Internet or this form for communication with the firm or any individual member of the firm does not establish an attorney-client relationship. Confidential or time-sensitive information should not be sent through this form.
I have read and understand the Disclaimer and Privacy Policy.

Are Employment Contracts Necessary for Small Businesses?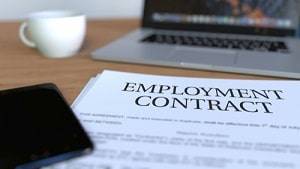 Running a small business and running a large business are two separate beasts. Some may think that managing a small company is a much easier endeavor, and in some ways it is, but it is important that your business upholds a certain standard of professionalism regardless of its size. Small business owners often have a more personal relationship with their employees since they work in closer proximity to all of their hired employees. While this can create a more comfortable, personalized work environment, it can also blur the lines between professional relationships and friendships. In order to avoid this gray area, you should consider creating employment contracts to ensure that both you and your employees are maintaining your duties within your position.
What Should Employment Contracts Include?
If you are considering creating an employment contract, it is a good idea to work with a business lawyer who can help you outline the details and contingencies. Employment contracts are unique to your business circumstances, though they typically include the following information:
Salary or wages: Your employment contract will explicitly outline each employee's wage, salary, or commission as discussed before their start date.

Schedule: If your employees do not work the average 9 am to 5 pm workday, you may consider including their specified days and hours within their contract.

General responsibilities: You may wish to outline the employee's duties in the contract so that it is clear what their responsibilities are within your team.

Confidentiality: Many businesses will have their employees sign separate non-disclosure agreements in addition to requiring confidentiality clauses within their contract.

Benefits: Employment contracts should outline the additional benefits offered to that employee, including health insurance, vacation time, 401k, and any other perks tied to their position.

Competition: Depending on your line of work, you may require employees to sign a non-compete agreement or clause. This states that upon leaving your company, the employee will not take on a position that puts him or her in direct competition with your company for a specified period of time.
What Can Employment Contracts Do for Me?
As a small business owner, the possibility of facing lawsuits may seem unlikely. This, however, is not necessarily true. All business owners take on the possibility of facing legal backlash from previous employees or partners. Employment contracts can help reduce the chances of this happening. Not only will these legal documents clearly define each employee's duties and benefits, but they will also create a sense of stability in the workplace and protect both parties during future legal proceedings. It is also important to note that the legally binding aspect of these agreements can be both beneficial and limiting. After signing the document, both an employer and employee have limited flexibility in terms of leaving the company or firing the employee. Changes must be made through renegotiation with the help of a business attorney.
Contact a Broward County Business Lawyer for Help
Are you considering requiring your employees to sign employment contracts? Or perhaps, you are an employee wanting to better understand the details of the employment contract being presented to you. Regardless, it is advisable to consult with a reputable business lawyer who can assist you with creating the contracts and easily interpret the details of these important legal documents. At Elliot Legal Group, our accomplished business lawyer has nearly 20 years of experience helping businesses of all sizes with their legal matters. Contact our Fort Lauderdale, FL employment contracts attorney at 754-332-2101 to schedule your initial consultation.
Source: https://www.thebalancecareers.com/what-is-an-employment-contract-2061985