The Elliot Legal Group, P.A. Offices | Fort Lauderdale and Miami
3101 N. Federal Hwy., Suite 609,
Oakland Park, Florida 33306
Our Lawyers are Licensed and Providing Representation in the Following Locations:
Florida, Washington D.C., England, and Wales
Fort Lauderdale
754-332-2101
Miami
305-399-3832
Contact Our Firm
NOTE: Fields with a
*
indicate a required field.
How would you prefer to be contacted?
E-Mail
Phone
No Preference
Briefly describe your legal issue.
*
The use of the Internet or this form for communication with the firm or any individual member of the firm does not establish an attorney-client relationship. Confidential or time-sensitive information should not be sent through this form.
I have read and understand the Disclaimer and Privacy Policy.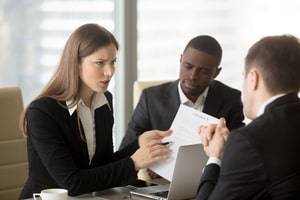 There are multiple different types of situations where business litigation may be necessary to address losses or other damages that have affected a company. These cases may involve contract disputes, violations of non-compete agreements, or other situations where a business seeks to recover compensation for losses. However, some business disputes may involve fraud or other criminal actions, and if a plaintiff can demonstrate that another party violated the law, they may be able to recover additional compensation through Florida's Civil Theft Statute.
Remedies for Civil Theft
Fraud and other forms of theft can significantly affect a company. When another party acts with intent to cause harm or otherwise engages in deceptive practices meant to benefit them financially, this can result in substantial losses. Fortunately, a business that has been the victim of fraud or theft may pursue compensation under the Civil Theft Statute, and if they are successful, they can receive treble damages. This means that they may receive three times the amount of the actual monetary losses they experienced because of the theft. A defendant may also be required to pay a plaintiff's attorney's fees.
Demonstrating that theft has occurred is not always easy. Florida courts have ruled that a plaintiff must show that a conversion occurred in which money or assets belonging to one party were illegally transferred to another party, and the defendant must have acted with criminal intent to deprive the plaintiff of property or benefits they would receive from ownership of property. These cases require a "clear and convincing evidence" standard, meaning that based on the evidence, a plaintiff's claims must be substantially likely to be true.
The Civil Theft Statute may allow a business to recover compensation for losses related to multiple types of theft or fraud, such as:
Paying for goods or services through the use of a forged check.

Making false representations when entering into an investment deal, such as misrepresenting the value of a company.

Embezzlement by a company's employees, such as illegally transferring funds from a business account to a person's personal account.

Receiving a refund through the use of a fraudulent receipt.

Selling items to a business that were known to be stolen or fraudulently obtained.

Physical theft of goods or equipment, such as stealing items from a truck while they are being transported to or from a business.

Illegally accessing a business's accounts to make fraudulent purchases or transfer money to other parties.
A breach of contract generally will not meet the standards to be considered civil theft, and in these cases, a business may only be able to pursue compensation for losses that occurred because of the breach. However, if a party entered into a contract fraudulently, such as by knowingly providing false information in order to secure monetary gains, this may be considered fraud, and a plaintiff may be able to pursue compensation for civil theft.
Contact Our Broward County Business Fraud Litigation Lawyer
If you have been the victim of fraud, you will want to determine your options for recovering compensation from the perpetrator. At The Elliot Legal Group, P.A., we can help you understand how to proceed in these situations, and we can provide you with representation during the litigation process and fight to protect your rights. Contact our Sunrise, FL business litigation attorney today at 754-332-2101 to set up a consultation and discuss these issues.
Sources:
http://www.leg.state.fl.us/Statutes/index.cfm?App_mode=Display_Statute&Search_String=&URL=0700-0799/0772/Sections/0772.11.html
https://casetext.com/case/bailey-v-covington