The Elliot Legal Group, P.A. Offices | Fort Lauderdale and Miami
3101 N. Federal Hwy., Suite 609,
Oakland Park, Florida 33306
*Licensed in England and Wales, Florida and Washington D.C.
Fort Lauderdale
754-332-2101
Miami
305-399-3832
Contact Our Firm
NOTE: Fields with a
*
indicate a required field.
How would you prefer to be contacted?
E-Mail
Phone
No Preference
Briefly describe your legal issue.
*
The use of the Internet or this form for communication with the firm or any individual member of the firm does not establish an attorney-client relationship. Confidential or time-sensitive information should not be sent through this form.
I have read and understand the Disclaimer and Privacy Policy.

What Issues Can Affect the Enforceability of a Business Contract?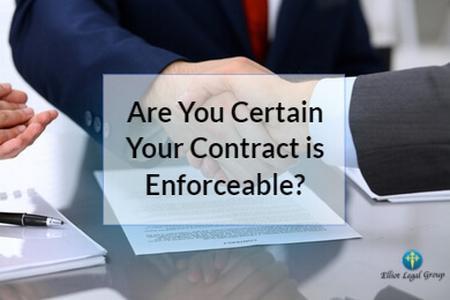 Most businesses rely on different types of contracts to make sure agreements are legally binding. These may include vendor contracts, partnership agreements, employment contracts, and multiple other types of business-related agreements. In cases where one party does not fulfill the terms of a contract, the other party may pursue litigation to enforce the contract's terms. However, there are some cases where it may not be possible to legally enforce a contract, and business owners will want to understand the potential issues that may make a contract unenforceable.
Making Sure a Contract Is Enforceable
A contract will need to meet a number of legal requirements, and one party may believe that the contract is invalid because it violates the law or does not include certain terms. Some issues that may affect the enforceability of a contract include:
Offer, acceptance, and consideration - These three elements must be included in every contract. One party must make an offer, and the other party must accept that offer. Each party must also receive consideration in return for meeting their contractual obligations, and this may include monetary payment, the receipt of goods or services, or other benefits. If these elements are not clearly defined in a contract, it may be unenforceable.

Competence - When entering into a contract, a person must be of sound mind, and they must fully understand what they are agreeing to. Mental incompetence by one party may be a reason to invalidate a contract.

Undue influence or duress - One party may claim that a contract is invalid because they were taken advantage of or that they signed a contract against their will due to threats or coercion.

Fraud or misrepresentation - Failure to disclose relevant information that would affect the other party or providing false information to attempt to influence a person into signing a contract may cause the contract to be invalidated.

Violations of laws or public policy - A contract cannot require a party to do something that is illegal or that would potentially harm society. In these cases, a party may be excused from fulfilling certain terms, or a contract may be completely unenforceable.

Unconscionability - In some cases, a contract may be found invalid if it was grossly unfair to one party. A court will generally only invalidate a contract on these grounds if enforcement of the agreement would lead to highly unjust results.

Mistakes - Errors in the language of a contract may affect the parties' ability to meet their obligations. However, these errors will usually only make a contract unenforceable if they affected the purpose of the contract or played a role in the decisions made during the bargaining process.
Contact Our Broward County Contract Litigation Attorneys
If you are looking to pursue litigation for breach of contract, or if you need to defend against claims that you have violated a contract's terms, The Elliot Legal Group, P.A. can advise you of your options. We will work with you to determine whether there are any issues that may affect the enforceability of a contract, and we will provide you with representation and protect your interests during legal proceedings. Contact our Hollywood, FL business litigation lawyers at 754-332-2101 to schedule a confidential consultation.
Sources:
https://www.thebalancesmb.com/basics-of-business-contracts-and-agreements-397811
https://www.villanovau.com/resources/contract-management/contract-enforcement-for-businesses/
https://www.law.cornell.edu/wex/contract