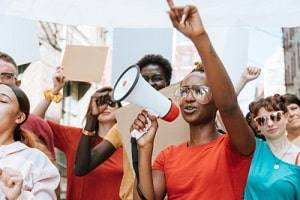 In the midst of recent events and surges of support for the Black Lives Matter Movement (BLM), many political protests have surfaced, drawing thousands of people to one area to show their support for racial equality. As some peaceful protests evolve into violent ones, law enforcement officers are wielding their power against protestors, sometimes targeting peaceful protesters in the process. Before attending a protest and exercising your First Amendment rights, it is important to understand what falls under these legal protections to avoid getting involved in a legal matter or criminal case. If you find yourself facing charges, following the proper peaceful protesting guidelines will only strengthen your litigation or personal injury case.
What Rights Does the First Amendment Protect?
The First Amendment is the foundation of American democracy and represents the core values of the United States: freedom of speech. This critical legislation states:
...