The Elliot Legal Group, P.A. Offices | Fort Lauderdale and Miami
3101 N. Federal Hwy., Suite 609,
Oakland Park, Florida 33306
*Licensed in England and Wales, Florida and Washington D.C.
Fort Lauderdale
754-332-2101
Miami
305-399-3832
Contact Our Firm
NOTE: Fields with a
*
indicate a required field.
How would you prefer to be contacted?
E-Mail
Phone
No Preference
Briefly describe your legal issue.
*
The use of the Internet or this form for communication with the firm or any individual member of the firm does not establish an attorney-client relationship. Confidential or time-sensitive information should not be sent through this form.
I have read and understand the Disclaimer and Privacy Policy.

Does My Business Contract Include a Non-Compete Agreement?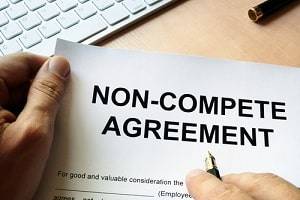 Whether you are a newly hired employee or you intend on going into business with someone else, you will likely be required to sign a contract before you can begin work. Many people will sign these employment or business contracts without giving them a second glance. You may be thinking that the contract is not relevant to you as an employee, but more directed toward management positions. No matter what your incoming role in the company may be, it is important to look into the details of any contract with a legal professional before signing. Non-compete agreements are commonly overlooked in Florida business contracts.
What Is a Non-Compete Agreement?
A non-compete agreement is a term within a contract that prohibits the signer from working for another company or starting his or her own business for a certain period of time. The purpose of these agreements is to reduce the chances of an integral employee leaving the company and becoming a competitor. This can involve going to your current employer's biggest competitor and bringing your experience and previous employer's business secrets to their competition. Alternatively, you may use the knowledge and connections that you have learned from your current employer and build your own business to compete with them. While it is impossible to restrict these opportunities forever, a non-compete agreement can typically place these legal constraints for six months to two years, and many include a geographic range in which the agreement spans. In other words, you cannot start a competing business down the street, but you can work in another county.
What Should I Do If I Am Asked to Sign One?
Non-compete agreements are often given to all employees to cover the employer's bases but are typically targeted toward highly paid executives and salespeople. Regardless of your position, it is important to understand the constraints of the non-compete agreement even if you do not intend on changing jobs anytime soon. Non-compete agreements may be an onboarding requirement for new hires or you may even be asked to sign one after spending years working for a company. If you are asked to sign one, ask your employer or HR representative important questions such as: Why do I need to sign this agreement? What am I getting out of signing this? In many cases, those who sign non-compete agreements are given extra pay, a promotion, or special training in exchange for its legal restrictions.
You should not solely rely on your employer's information about the agreement. Seek out an attorney's help who can review the terms of the agreement and even help you negotiate. With a reputable attorney on your side, you may be able to get your employer to shorten the duration of the non-compete agreement or reduce the geographic area outlined in its terms. A non-compete agreement is signed for a reason -- to take legal action if necessary. Never assume that your employer will not come after you if you violate the terms of the agreement.
Contact a Fort Lauderdale, FL Business Lawyer
Starting a new job or going into a new business partnership can be an exciting opportunity. So much so, that many new employees or business partners may sign contracts without taking the time to look into the fine details. Elliot Legal Group, P.A. drafts and reviews business contracts to help you start your new position well-informed or assist new businesses in properly outlining their expectations to their employees. Our Broward County business contract attorney has seen first-hand how the failure to review a contract can negatively impact both a business and its employees. For help with your business contract, call Attorney Elliot today at 754-332-2101.
Sources:
https://www.cnn.com/2019/12/10/success/noncompete-agreements/index.html
https://www.thebalancecareers.com/what-is-a-non-compete-agreement-2062045