The Elliot Legal Group, P.A. Offices | Fort Lauderdale and Miami
3101 N. Federal Hwy., Suite 609,
Oakland Park, Florida 33306
*Licensed in England and Wales, Florida and Washington D.C.
Fort Lauderdale
754-332-2101
Miami
305-399-3832
Contact Our Firm
NOTE: Fields with a
*
indicate a required field.
How would you prefer to be contacted?
E-Mail
Phone
No Preference
Briefly describe your legal issue.
*
The use of the Internet or this form for communication with the firm or any individual member of the firm does not establish an attorney-client relationship. Confidential or time-sensitive information should not be sent through this form.
I have read and understand the Disclaimer and Privacy Policy.

What Is the Difference Between a Business Merger and an Acquisition?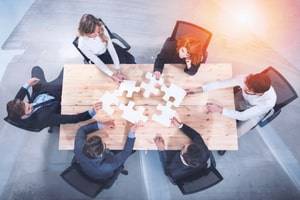 There are many ways that a business may grow or expand its operations, such as by hiring new staff, building new facilities, and beginning to serve customers in new markets. However, rather than starting from zero and building a new area of business from the ground up, it can sometimes be preferable to combine with another company that already fills this role. This is often done through mergers or acquisitions. By understanding the differences between these types of transactions, business owners, partners, or shareholders can determine the best approach to take as they look to expand operations or combine with other companies.
Options for Purchasing or Combining With Another Company
While both mergers and acquisitions will involve the combination of two companies into one organization, the procedures followed will often depend on whether one organization will be the "primary" company going forward. In a true merger, both companies will be treated equally, and neither company will purchase the other. Mergers usually take place through mutual consent, and a new company will be formed, which may require a new name and organizational structure.
In an acquisition, on the other hand, one company will purchase another company and incorporate it into its existing structure. Acquisitions may be friendly, meaning that both parties agree that one company will purchase the other, or they may be hostile acquisitions in which one company assumes control of another by purchasing a majority of its ownership shares. In reality, most mergers are actually acquisitions, and even if the companies will be combining assets and staff, one company will have primary control over the new structure.
Mergers can come in several types, including:
Horizontal mergers in which two companies that provide the same types of products or services to the same customers join together and continue serving the same market.

Vertical mergers in which a company purchases a vendor or supplier, or vice versa.

Congeneric mergers of two companies that serve the same markets, but in different ways, such as a cell phone service provider acquiring a hardware manufacturer so that it may sell phones to customers along with service.

Market-extension mergers or acquisitions in which one company combines with another company that provides the same types of products or services in a different market, allowing the two companies to expand their reach and serve more customers.

Conglomerations involving two companies that do not provide the same products or services or do not have other areas in common but would benefit by combining into a larger company.
Contact Our Oakland Park Business Sales and Purchases Lawyer
While a merger or acquisition can provide benefits for both parties, it is important to follow the correct procedures during these transactions. In addition to complying with all applicable laws, a company will also need to determine the best organizational structure that will allow executives, management, and other employees to function efficiently and remain successful in the markets the company serves. At The Elliot Legal Group, P.A., we can ensure that all legal issues will be addressed correctly during a merger or acquisition, and we can help business owners or shareholders protect their interests and build successful strategies that will allow them to achieve their goals. Contact our Dania Beach business transactions attorney at 754-332-2101 to learn more about our services.
Sources:
https://www.investopedia.com/terms/m/mergersandacquisitions.asp
https://corporatefinanceinstitute.com/resources/knowledge/deals/merger-vs-acquisition/