The Elliot Legal Group, P.A. Offices | Fort Lauderdale and Miami
3101 N. Federal Hwy., Suite 609,
Oakland Park, Florida 33306
*Licensed in England and Wales, Florida and Washington D.C.
Fort Lauderdale
754-332-2101
Miami
305-399-3832
Contact Our Firm
NOTE: Fields with a
*
indicate a required field.
How would you prefer to be contacted?
E-Mail
Phone
No Preference
Briefly describe your legal issue.
*
The use of the Internet or this form for communication with the firm or any individual member of the firm does not establish an attorney-client relationship. Confidential or time-sensitive information should not be sent through this form.
I have read and understand the Disclaimer and Privacy Policy.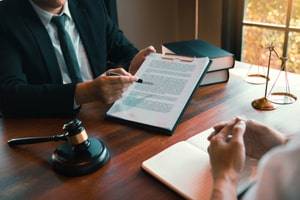 There are multiple types of business litigation that a company may need to defend against. In some cases, former employees may take legal action against a business because they believe that they were fired or terminated for illegal reasons. In addition to the expenses involved in defending against these claims, a company may face significant penalties if a jury determines that it took illegal actions when terminating an employee. In some cases, a verdict may require a company to repay the employee for wages and benefits they lost due to the termination, as well as other damages, such as compensation for emotional trauma. To avoid these consequences, employers will need to understand their rights, the procedures they will want to follow when terminating employees, and the ways they can demonstrate that they have complied with the law.
Laws Affecting the Termination of Employees in Florida
Like most other states, the laws in Florida follow the principle of "at-will employment." This means that both employers and employees are free to end a person's employment at any time and for any reason that does not violate the law. An employer may choose to fire an employee because the person did not meet certain standards in their work, because the company no longer has the budget to cover the employee's salary, or because of inappropriate behavior by the employee. Similarly, an employee may choose to leave a company because they found a different employer who is a better fit for their needs and goals, because of interpersonal differences with coworkers or managers, or because they have experienced health issues that prevent them from performing work they had done in the past.
While there are many valid reasons for the termination of a person's employment, there are some cases where firing an employee for certain reasons may be illegal. Employees have protections against discrimination, and an employee may claim that they were wrongfully terminated because of factors such as their religion, sexual orientation, gender identity, race, national origin, or family status (including pregnancy). A company is also prohibited from taking "retaliatory personnel actions," including discharging, suspending, or demoting an employee, because the employee disclosed a company's allegedly illegal policies or practices to a government organization or because the employee refused to participate in illegal activity on behalf of the employer.
If a former employee brings a lawsuit against a company based on wrongful termination, the company may have several options for defending against these claims. In many cases, the best defense will involve providing documentation of policies showing that a company complied with the law, as well as records related to the person's employment and termination. Demonstrating that a person was terminated for valid reasons, such as providing false information on an employment application or failing to abide by rules described in an employee handbook, is often the most effective defense that will help an employer avoid legal consequences.
Contact Our Broward County Employment Litigation Defense Lawyer
At The Elliot Legal Group, P.A., we can provide legal representation to businesses who are facing claims that they have wrongfully terminated employees, as well as other related allegations, such as discrimination or sexual harassment. We will work to ensure that a company will be able to resolve these matters effectively and minimize its financial losses. Contact our Plantation business litigation attorney at 754-332-2101 to get legal help with your case.
Sources:
http://www.leg.state.fl.us/statutes/index.cfm?App_mode=Display_Statute&URL=0400-0499/0448/0448.html
https://www.mightyrecruiter.com/recruiter-guide/at-will-employment-wrongful-termination-laws-florida/
https://www.law.cornell.edu/wex/wrongful_termination