The Elliot Legal Group, P.A. Offices | Fort Lauderdale and Miami
3101 N. Federal Hwy., Suite 609,
Oakland Park, Florida 33306
*Licensed in England and Wales, Florida and Washington D.C.
Fort Lauderdale
754-332-2101
Miami
305-399-3832
Contact Our Firm
NOTE: Fields with a
*
indicate a required field.
How would you prefer to be contacted?
E-Mail
Phone
No Preference
Briefly describe your legal issue.
*
The use of the Internet or this form for communication with the firm or any individual member of the firm does not establish an attorney-client relationship. Confidential or time-sensitive information should not be sent through this form.
I have read and understand the Disclaimer and Privacy Policy.

What Should I Consider When Selecting My Business Structure?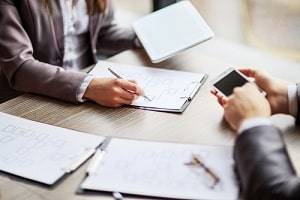 Starting a business is an exciting endeavor. You have likely spent years considering a business idea in your head and are finally in the process of getting things off the ground. Having a good business idea is only the first step in creating a successful company. While this may be the foundation of your work, there are other things that are required during these initial stages. One of the most important aspects of building a business is choosing the right legal structure, also known as a business entity. This single decision impacts how your business will be run moving forward. But how do you know the difference between your options and determine which is the right one for you?
Choosing a Business Entity
There are four types of business entities that one can choose from: sole proprietorship, partnership, corporation, and limited liability company (LLC). It is best to consult with a business attorney to fully understand the differences between these options, but be sure to keep the following considerations in mind when choosing one business entity over another.
Legal liability: Are you willing to be held personally liable for potential losses associated with your business? For some businesses, this may be a substantial loss while others may not face this same concern. For example, some businesses require large investments in equipment or the contracts that they work on are substantial. If the business goes under, you may be unable to afford to be held personally liable. In cases like these, a sole proprietorship or partnership may not be the best fit.

Tax implications: No one wants to pay more taxes than necessary, and depending on the business entity that you select, you may face higher taxes than other businesses. Corporations, for instance, may require double taxation in which the company pays corporate taxes and the shareholders will be taxed on profits earned in the form of dividends. However, company profits and losses in an S-corporation will be taxed as part of the owner's or partner's personal income taxes.

Formation and administration costs: Even though corporations may offer tax benefits, the costs of conducting business as a corporation can make these benefits negligible. Corporations have high costs when it comes to necessary recordkeeping, paperwork, and other requirements that come along with incorporations. These additional costs can leave new business owners leaning toward a sole proprietorship or partnership.

The company's future: It is easy to get caught up in the present when making decisions for your business. While it is important to choose a business structure that is currently feasible, you should also consider where you would like your business to be years from now. What will happen to your business after you die? What if you want to sell your part of the business sometime in the future? Sole proprietorships and partnerships may dissolve upon the owner's death while a corporation can be passed from one family member to another.
Contact a Broward County Business Attorney
Selecting your business structure should always be done with the help of an attorney who understands the benefits and drawbacks of each option. Elliot Legal Group provides legal support to companies of all sizes, ranging from startups to Fortune 500 companies. Attorney Elliot is prepared to help you get your business off the ground and stand by your side throughout the ups and downs of owning a business. For more information about business structures, contact our seasoned Fort Lauderdale business lawyer at 754-332-2101 today.
Source: https://www.entrepreneur.com/article/38822