The Elliot Legal Group, P.A. Offices | Fort Lauderdale and Miami
3101 N. Federal Hwy., Suite 609,
Oakland Park, Florida 33306
*Licensed in England and Wales, Florida and Washington D.C.
Fort Lauderdale
754-332-2101
Miami
305-399-3832
Contact Our Firm
NOTE: Fields with a
*
indicate a required field.
How would you prefer to be contacted?
E-Mail
Phone
No Preference
Briefly describe your legal issue.
*
The use of the Internet or this form for communication with the firm or any individual member of the firm does not establish an attorney-client relationship. Confidential or time-sensitive information should not be sent through this form.
I have read and understand the Disclaimer and Privacy Policy.

Is a Sole Proprietorship a Good Business Structure for My Company?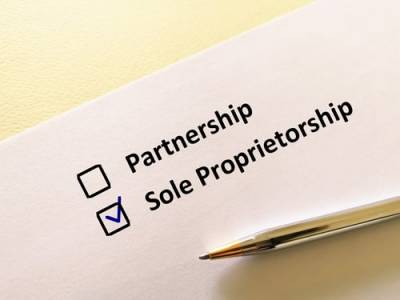 When starting a business, there are many decisions to be made and likely a lot on your mind. Many people focus on what they are going to name the business or what their logo is going to look like and do not always think about what type of business structure they are going to use. Even though it is not the most glamorous topic to explore, it can be one of the most important. Your business structure affects the way you report income and claim taxes. For many people, a sole proprietorship is the easiest way to form their business. However, a sole proprietorship is not the right choice for everyone, which is why you should do your research before you make a decision.
Forming a Sole Proprietorship
Many people forming a business tend to lean towards sole proprietorship because it is one of the easiest ways to form a business. In fact, a sole proprietorship is formed without any formal action, unlike with other business structures. If you are the only one who owns the business, you are automatically given the sole proprietorship designation.
Benefits of a Sole Proprietorship
There are many reasons why people choose to operate as a sole proprietorship. The biggest reason is because of how easy and inexpensive it is to form. The only legal costs you obtain with a sole proprietorship are usually the costs of any licenses or permits you must obtain to do business. Another large benefit is having complete control over the company. Since you are the only owner (and many times, the only employee) you can retain power over your business and run it the way you want to. Sole proprietorships are also simple when it comes time to file taxes. Since you and your business are not separate legal entities, your business is not taxed separately from your own income. This means that when you report your profits and losses for the year, they are factored into your personal tax return.
Contact an Oakland Park, FL Business Formation Lawyer Today
For some people, their American Dream is achieved when they finally begin their own business. However, starting a business can be a complex process. At the Elliot Legal Group, we want to help you form the business of your dreams. Our knowledgeable Broward County business formation attorney can help you understand the differences between different types of business structures and determine which one suits your needs best. Let us help you achieve your American Dream; call our office today at 754-332-2101 to schedule a consultation.
Sources:
https://www.sba.gov/content/sole-proprietorship
https://www.entrepreneur.com/article/75118