The Elliot Legal Group, P.A. Offices | Fort Lauderdale and Miami
3101 N. Federal Hwy., Suite 609,
Oakland Park, Florida 33306
Our Lawyers are Licensed and Providing Representation in the Following Locations:
Florida, Washington D.C., England, and Wales
Fort Lauderdale
754-332-2101
Miami
305-399-3832
Contact Our Firm
NOTE: Fields with a
*
indicate a required field.
How would you prefer to be contacted?
E-Mail
Phone
No Preference
Briefly describe your legal issue.
*
The use of the Internet or this form for communication with the firm or any individual member of the firm does not establish an attorney-client relationship. Confidential or time-sensitive information should not be sent through this form.
I have read and understand the Disclaimer and Privacy Policy.

Fort Lauderdale Business Lawyer Recipient of 2024 Martindale-Hubbell Award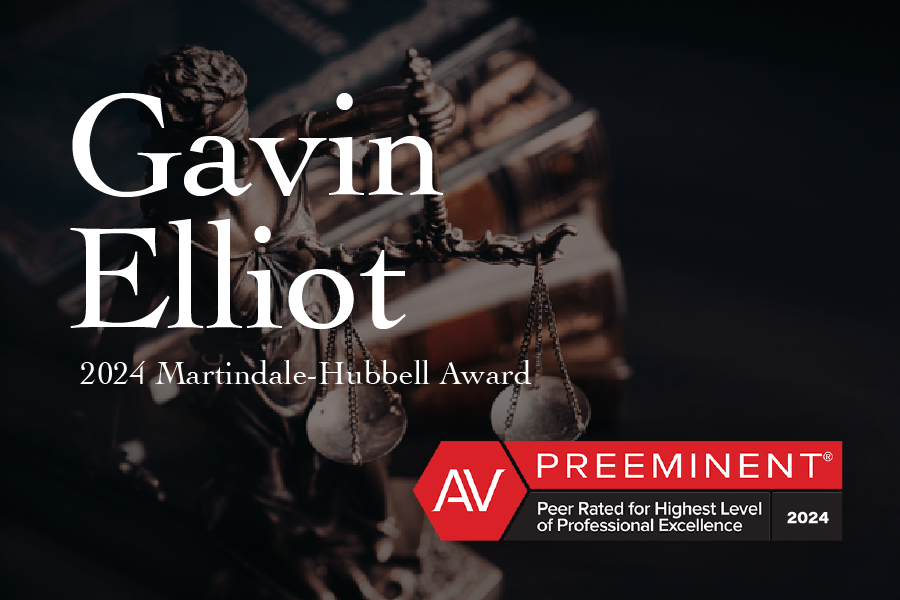 The Elliot Legal Group is thrilled to announce that the firm's founding attorney, Mr. Gavin Elliot, has been selected as a winner of the 2024 Martindale-Hubbell Award with the AV Preeminent Rating. This prestigious honor, awarded after an exhaustive peer review process, is granted solely to attorneys with a rare combination of elite legal ability and a commitment to maintaining the highest ethical standards.
Mr. Elliot is a renowned international lawyer licensed to practice in the United Kingdom and America, specifically England and Wales, as well as Florida and Washington, D.C. With offices in Fort Lauderdale and Miami, Mr. Elliot has run his private practice since its founding in 2010. Since then, he has distinguished himself as the foremost legal authority in business litigation, real estate law, foreclosure defense, and general counsel services. A member of the American Bar Association and the Business Law Section of The Florida Bar, Mr. Elliot remains heavily invested in the legal and local communities, finding ways to give back to his cherished community.
The Elliot Legal Group is among the upper echelon of South Florida law firms, cementing itself as a client-focused firm of unmatched quality and reputation within the Florida and international legal community. Assisting clients in legal matters related to financial services, real estate, maritime, and other industries, The Elliot Legal Group has proven itself as a law office that can be relied upon to handle the toughest of cases, whether inside or outside the courtroom.
BCBA Featured Member of the Week!
Broward County Bar Association
An experienced business lawyer, Gavin Tudor Elliot founded The Elliot Legal Group PA; a boutique law firm focused on business litigation and tr.ms.actions. Elliot uses his more than twenty (20) years of business law and real estate experience, in and out of the courtroom and across the globe, to ensure that his clients are positioned for success. He is licensed in Florida and Washington, D.C., and a solicitor for England and Wales.
For Elliot, it is all about the clients. "At the end of the day, I love finding solutions, making my clients' lives better, and watching them grow and succeed. That's what I love about being a lawyer."
Read more here:
www.browardbar.org
DeSantis gave $103.4 million in no-bid contracts to Sunrise's MedPro, accused of 'trafficking' foreign nurses, to staff vaccine sites
Florida Bulldog
Attorney Gavin Elliot represented Althea Martineau in countersuing the company resulting in the suit being dropped and dismissed.
Shareholders Return Assets Stripped From Strip Club
Haute Living
Gavin Tudor Elliot, owner of the Elliot Legal Group, P.A., brings decades of business law experience – in and out of the courtroom and across the globe – to ensure that your company is positioned for success.
Elliot has more than 18 years of experience representing clients in Florida. He is also a licensed attorney in Washington, D.C., and a solicitor in Wales and England, where he was born. He has arranged the acquisitions of a financial institution and a software developer in Europe, the formation of an online retail start-up in the United States, and negotiated and drafted a distribution agreement under English law between Asia and the Middle East.
On July 16, 2012, a lawsuit was brought against a Strip Club and its shareholders in Federal Court in the Southern District of Florida. The basis of the suit was the breach of a Termination Agreement. On February 25th, 2016, a final judgment was obtained against the Strip Club in the underlying litigation for $675,000.
Read more here:
https://hauteliving.com/hautelawyer/638662/shareholders-return-assets-stripped-from-strip-club/
Ask A Lawyer: Common Misconceptions
Haute Living
Welcome to the monthly "Ask An Attorney" article. In this segment, Haute Lawyer asks our attorneys your burning questions so that you can receive informed and well-rounded answers from the top attorneys in the nation. This month's topic is common misconceptions.
"What is a common misconception you run across about lawyers in your field?"
Gavin Tudor Elliot, Business Law & Business Litigation, South Florida
"I have often heard friends and other people I met say that if you want to kill a deal give it to a lawyer or an accountant. The presumption is that the lawyer will mire you in the details of the language and law while the accountant will mire you in the details of the numbers and kill the deal.
Read more here:
https://hauteliving.com/hautelawyer/637266/ask-a-lawyer-common-misconceptions/