The Elliot Legal Group, P.A. Offices | Fort Lauderdale and Miami
3101 N. Federal Hwy., Suite 609,
Oakland Park, Florida 33306
*Licensed in England and Wales, Florida and Washington D.C.
Fort Lauderdale
754-332-2101
Miami
305-399-3832
Contact Our Firm
NOTE: Fields with a
*
indicate a required field.
How would you prefer to be contacted?
E-Mail
Phone
No Preference
Briefly describe your legal issue.
*
The use of the Internet or this form for communication with the firm or any individual member of the firm does not establish an attorney-client relationship. Confidential or time-sensitive information should not be sent through this form.
I have read and understand the Disclaimer and Privacy Policy.

How Can Force Majeure Get Me Out of My Florida Contract?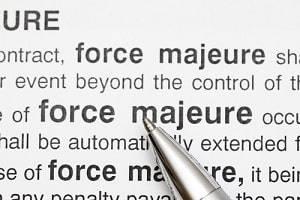 COVID-19 has been labeled "unprecedented," "a global pandemic," and other phrases that designate the impact this contagious virus has had on our nation. With stay-at-home orders being created and extended, restaurants and bars being restricted, and many people losing their jobs as companies cut costs, it can seem impossible to follow through with some of your contractual obligations. Real estate is one of the areas taking the hardest hit—renters are struggling to pay their monthly fees and homeowners are having difficulties with their mortgage dues. Although moratoriums have been put in place, allowing some leeway with payment due dates, they will soon be coming to an end, leaving thousands of Floridians unsure of what to do next.
What Is "Force Majeure"?
The term "force majeure" refers to a clause present in many contracts giving signees a loophole for following the terms of that contract. In general, force majeure clauses require the petitioning party to present a specific and compelling reason why he or she cannot perform the terms of the contract. However, simply saying times are hard is not enough evidence to escape the contract's terms. In Florida's legislation, force majeure includes hurricanes, floods, earthquakes, fire, extreme weather conditions, or other acts of God, wars, insurrections, acts of terrorism, or unusual transportation delays of which the non-performing party is unable to overcome. As you can see, the global pandemic is not included in this description, yet one might consider these unusual and unforeseen circumstances "other acts of God."
If a force majeure clause is included in the contract, as it is not present in all contracts, and the petitioning party proves these unusual circumstances, the clause provides an automatic extension of the contract's terms. Once the circumstances, in this case, COVID-19, resolve themselves and no longer prevent the petitioning party from following the contract's terms, this party will be given a deadline by when the actions must be performed. In the instance of real estate payments, this would mean that a tenant is given a new date by which to pay his or her rent or mortgage.
Will This Actually Work?
The usefulness of a force majeure clause is highly debatable. As you can see from the description above, very few circumstances warrant the use of the force majeure clause. In fact, not many courts allow this clause to affect one's obligation to follow a contract. Courts often interpret these clauses narrowly and do not often apply force majeure. Two similar defense theories that an attorney may consider are "impossibility of performance" and "frustration of purpose." Impossibility of performance is very similar to force majeure while frustration of purpose is a somewhat different argument. Frustration of purpose can be used if one party entered a contract for a very specific purpose, and the other party knew this intention, yet his or her ability to move forward is impeded by specific circumstances. Looking at a more specific example, if a tenant enters into a contract to use the property for one specific purpose, and the tenant is no longer able to use the property for that purpose based on unforeseen circumstances, one can argue frustration of purpose.
Contact a Fort Lauderdale Business Contract Attorney
The concepts and defenses behind contractual law are often convoluted and best left to a professional to handle. If you are having difficulties following the terms of any contracts, whether it be business or real estate, you should present the contract to an experienced attorney for review. There may be a force majeure clause or other "loophole" present that can help you avoid facing legal consequences for failing to follow these terms. The team at Elliot Legal Group, P.A. works with clients in Fort Lauderdale and Miami who are having difficulties with drafting, reviewing, or interpreting their contracts. Our experienced attorney assists Floridians with business and real estate contracts to help them understand their legal rights and responsibilities. For help with your contract, contact our Broward County real estate lawyer today at 754-332-2101 to schedule your private consultation.
Source:
https://www.floridarealtors.org/news-media/news-articles/2020/03/florida-realtors-white-paper-when-it-comes-contracts-coronavirus