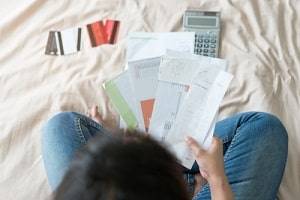 When your credit card bills begin to build up and your pockets are feeling empty, you may be unsure of how to handle the situation. Debt can accumulate quickly, and without additional income coming in, you may not be able to pay off your debts by the date that your creditors are requesting. Filing for bankruptcy may be in the back of your mind, but you are likely considering your other options before fully making your decision. There are a number of bankruptcy alternatives, many of which do not fully solve your problems. Debt settlement companies are often considered by those who are deeply in debt and are avoiding filing for bankruptcy. While you may be avoiding bankruptcy, the risks of debt settlement companies are rarely worth taking.
What Is a Debt Settlement Company?
Debt settlement companies have the same goal as bankruptcy -- helping you rid yourself of insurmountable debt. However, these debt settlement programs are typically for-profit companies. The company or program will attempt to negotiate with your creditors to allow you to pay a "settlement" to resolve your debt. This settlement will typically be a lump sum payment that is less than the total amount that you owe. In order to build up this lump sum, the company will request that you set aside money each month into an account that holds your funds for paying off your debt. This savings account will eventually build up to the settlement that the company negotiated for you and you will pay off the debt with that saved money.
...