The Elliot Legal Group, P.A. Offices | Fort Lauderdale and Miami
3101 N. Federal Hwy., Suite 609,
Oakland Park, Florida 33306
*Licensed in England and Wales, Florida and Washington D.C.
Fort Lauderdale
754-332-2101
Miami
305-399-3832
Contact Our Firm
NOTE: Fields with a
*
indicate a required field.
How would you prefer to be contacted?
E-Mail
Phone
No Preference
Briefly describe your legal issue.
*
The use of the Internet or this form for communication with the firm or any individual member of the firm does not establish an attorney-client relationship. Confidential or time-sensitive information should not be sent through this form.
I have read and understand the Disclaimer and Privacy Policy.

When Is Protesting Considered "Peaceful" in Florida?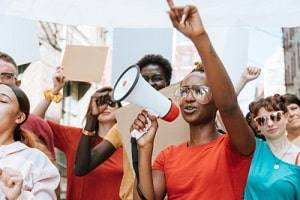 In the midst of recent events and surges of support for the Black Lives Matter Movement (BLM), many political protests have surfaced, drawing thousands of people to one area to show their support for racial equality. As some peaceful protests evolve into violent ones, law enforcement officers are wielding their power against protestors, sometimes targeting peaceful protesters in the process. Before attending a protest and exercising your First Amendment rights, it is important to understand what falls under these legal protections to avoid getting involved in a legal matter or criminal case. If you find yourself facing charges, following the proper peaceful protesting guidelines will only strengthen your litigation or personal injury case.
What Rights Does the First Amendment Protect?
The First Amendment is the foundation of American democracy and represents the core values of the United States: freedom of speech. This critical legislation states:
"Congress shall make no law respecting an establishment of religion, or prohibiting the free exercise thereof, or abridging the freedom of speech, or of the press, or the right of the people peaceably to assemble, and to petition the Government for a redress of grievances."
As you can see, the right to peaceably assemble is included in this amendment, but this is not to say that this right is unlimited or that attempts have not been made to try to limit this right. The state of Florida had its own example in 2017 when Republican Sen. George Gainer filed Senate Bill 1096. If passed, the bill would have made it a criminal offense to block traffic during a protest or demonstration, which occurs with most protests, and any drivers who injured protesters would have been exempt from personal injury or wrongful death liability. Although the bill was deemed a violation of the First Amendment and never passed, this serves as an example of the means that legislators can take to attempt to limit these rights.
General Peaceful Protesting Guidelines
When making the decision to join a protest, it is critical that you abide by the legal parameters that exist. The First Amendment does not provide complete, free reign to say or do whatever you would like. If you abide by the following guidelines, a reputable litigation attorney will be able to assist you with your case.
If I say controversial statements, can I face charges? There is a fine line between what can and cannot be said while protesting. The First Amendment prohibits restrictions of your speech's content; however, law enforcement officers are able to place non-discriminatory "time, place, and manner" restrictions. If you have been involved in a peaceful protest, be sure to note what you are saying to the crowd in case you get involved in litigation proceedings.

Where can this "free speech" occur? All public forums are fair game for peaceful protests to occur. This includes streets, sidewalks, and parks. However, private property owners can set regulations for free speech while on their property. You can be asked to leave their property if you ignore these rules and face trespassing charges for noncompliance.

Are permits required for organized protests? The following types of events require an approved permit: marches or organized events that block streets; rallies that require sound-amplifying devices; and rallies at particular designated plazas or parks. If you are organizing a protest, be sure to file your application a few weeks in advance. Legally speaking, a permit cannot be denied based on the content or subject of the event.

Can I hand out documents to passersby? Many protests have participating members distributing leaflets or informational pamphlets about the purpose of their protest. It is legal to hand out newspapers, leaflets, and other informational materials to those not participating in the event.
Contact a Fort Lauderdale, FL Personal Injury Lawyer for Help
If you have been injured at a protest or are involved in a litigation case for your involvement in a peaceful protest, you should seek legal assistance as soon as possible. Your First Amendment rights should not be restricted and standing up for what you believe in should not lead to serious or fatal injuries. Whether you are hit by a car or injured by another protestor, we can help. The Elliot Legal Group, P.A. has an experienced legal team who is ready to help you obtain the compensation that you deserve for any damages that you suffered. Contact our Broward County attorney at 754-332-2101 to discuss the details of your case.
Sources:
https://constitution.congress.gov/browse/essay/amdt1_4_1/
https://www.aclufl.org/en/know-your-rights/demonstrations-and-protests
https://www.flsenate.gov/Session/Bill/2017/1096