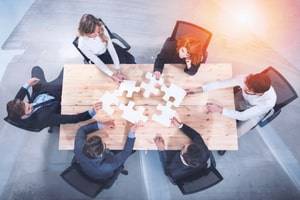 There are many ways that a business may grow or expand its operations, such as by hiring new staff, building new facilities, and beginning to serve customers in new markets. However, rather than starting from zero and building a new area of business from the ground up, it can sometimes be preferable to combine with another company that already fills this role. This is often done through mergers or acquisitions. By understanding the differences between these types of transactions, business owners, partners, or shareholders can determine the best approach to take as they look to expand operations or combine with other companies.
Options for Purchasing or Combining With Another Company
While both mergers and acquisitions will involve the combination of two companies into one organization, the procedures followed will often depend on whether one organization will be the "primary" company going forward. In a true merger, both companies will be treated equally, and neither company will purchase the other. Mergers usually take place through mutual consent, and a new company will be formed, which may require a new name and organizational structure.
In an acquisition, on the other hand, one company will purchase another company and incorporate it into its existing structure. Acquisitions may be friendly, meaning that both parties agree that one company will purchase the other, or they may be hostile acquisitions in which one company assumes control of another by purchasing a majority of its ownership shares. In reality, most mergers are actually acquisitions, and even if the companies will be combining assets and staff, one company will have primary control over the new structure.
...