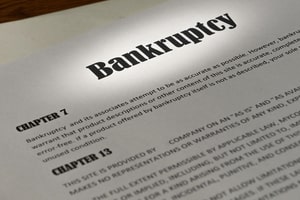 Most Americans have some form of debt. This may include credit card debts, auto loans, the mortgage on a home, or other amounts owed to a creditor. For those who are able to make ongoing payments, debts can be troublesome but manageable. However, families who experience financial difficulties may end up with too much debt to handle, and this can lead to ongoing issues such as harassment from creditors, a lower credit score, or the foreclosure of a home. Fortunately, bankruptcy can provide relief for people who are in these situations, and it may allow for the elimination of certain debts. Debtors will need to understand what types of debts can and cannot be discharged.
Non-Dischargeable Debts
Depending on a family's financial situation and the assets they own, Chapter 7 bankruptcy may allow for the discharge of most debts after certain assets are liquidated, or Chapter 13 bankruptcy may allow debts to be consolidated into a repayment plan, with any remaining debts being discharged after the plan has been completed. However, even after completing the bankruptcy process, a debtor may be required to repay certain debts, including:
Student loans - Most of the time, student loans provided through a government lender such as Sallie Mae, as well as private student loans that are backed by the federal government, cannot be discharged through bankruptcy. In some cases, a person may be able to have these loans eliminated by showing that repaying them would cause undue hardship, but few people are able to meet this requirement. Those who are unable to make student loan payments may be able to negotiate affordable repayment plans with creditors.

...