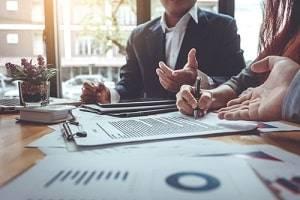 Everyone has experienced a time when a lunch date with a friend has evolved into a group event after bumping into someone while out to eat. This "third wheel" can hang around much longer than expected and change your plans drastically. While this is a boiled-down analogy, third-party beneficiaries within business contracts can be a similar experience. Companies signing contracts may not realize the straggling, unintended parties that may appear later down the road. Whether you are a small start-up or a well-established company seeking new business ventures, it is critical to be detail-oriented when drafting a new contract or considering signing one. The legal jargon used in these contracts as well as the high volume of content can cause some businessmen and businesswomen to sign a contract without recognizing the third parties it may bring along with it.
What Is a Third-Party Beneficiary?
Similar to the analogy used above, a third-party beneficiary is a company or business that benefits from the terms of a contract made between two other parties. These potential beneficiaries are sometimes unforeseen by the signees before putting their pen to paper. Depending on the circumstances, these third-party beneficiaries may have certain rights within the contract if the terms are not fulfilled by both signing parties.
...