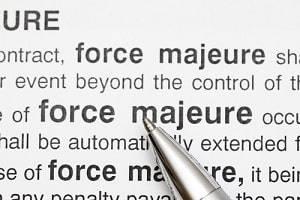 COVID-19 has been labeled "unprecedented," "a global pandemic," and other phrases that designate the impact this contagious virus has had on our nation. With stay-at-home orders being created and extended, restaurants and bars being restricted, and many people losing their jobs as companies cut costs, it can seem impossible to follow through with some of your contractual obligations. Real estate is one of the areas taking the hardest hit—renters are struggling to pay their monthly fees and homeowners are having difficulties with their mortgage dues. Although moratoriums have been put in place, allowing some leeway with payment due dates, they will soon be coming to an end, leaving thousands of Floridians unsure of what to do next.
What Is "Force Majeure"?
The term "force majeure" refers to a clause present in many contracts giving signees a loophole for following the terms of that contract. In general, force majeure clauses require the petitioning party to present a specific and compelling reason why he or she cannot perform the terms of the contract. However, simply saying times are hard is not enough evidence to escape the contract's terms. In Florida's legislation, force majeure includes hurricanes, floods, earthquakes, fire, extreme weather conditions, or other acts of God, wars, insurrections, acts of terrorism, or unusual transportation delays of which the non-performing party is unable to overcome. As you can see, the global pandemic is not included in this description, yet one might consider these unusual and unforeseen circumstances "other acts of God."
...