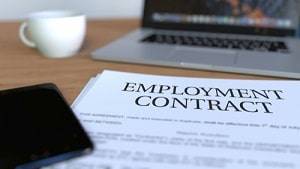 Running a small business and running a large business are two separate beasts. Some may think that managing a small company is a much easier endeavor, and in some ways it is, but it is important that your business upholds a certain standard of professionalism regardless of its size. Small business owners often have a more personal relationship with their employees since they work in closer proximity to all of their hired employees. While this can create a more comfortable, personalized work environment, it can also blur the lines between professional relationships and friendships. In order to avoid this gray area, you should consider creating employment contracts to ensure that both you and your employees are maintaining your duties within your position.
What Should Employment Contracts Include?
If you are considering creating an employment contract, it is a good idea to work with a business lawyer who can help you outline the details and contingencies. Employment contracts are unique to your business circumstances, though they typically include the following information:
...