The Elliot Legal Group, P.A. Offices | Fort Lauderdale and Miami
3101 N. Federal Hwy., Suite 609,
Oakland Park, Florida 33306
*Licensed in England and Wales, Florida and Washington D.C.
Fort Lauderdale
754-332-2101
Miami
305-399-3832
Contact Our Firm
NOTE: Fields with a
*
indicate a required field.
How would you prefer to be contacted?
E-Mail
Phone
No Preference
Briefly describe your legal issue.
*
The use of the Internet or this form for communication with the firm or any individual member of the firm does not establish an attorney-client relationship. Confidential or time-sensitive information should not be sent through this form.
I have read and understand the Disclaimer and Privacy Policy.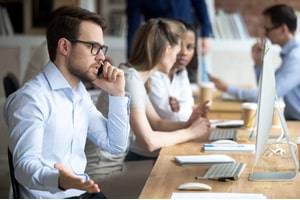 There are many situations where a party to a business contract may violate the terms of their legal agreement. When a breach of contract occurs by one party, the other party may experience financial losses or other damages, and they may seek to recover these damages through business litigation. However, there are some situations where an anticipatory breach of contract may occur because one party will be expected to violate the terms of a contract. In these situations, the other party will need to understand their options, including the steps they can take to protect their interests and minimize their financial losses.
Anticipatory Breaches and Repudiation
If one party refuses to honor the terms of a contract, this is known as repudiation. In some cases, one party may inform the other that they will not be meeting their contractual obligations. However, many anticipatory breaches involve suspicions by one party that the other will be unable to fulfill the contract's terms. For example, if a company has entered into a contract with a manufacturer in which a large number of goods will be delivered by a certain date, and they later learn that the manufacturer has filled a large order of the same goods for another company, they may be concerned that the manufacturer has exceeded their production capabilities and will be unable to manufacture and deliver the goods on time. The company may then need to take action to respond to the expected breach of the contract.
Under the Uniform Commercial Code (UCC), a party that has reasonable grounds to believe that a breach of contract will occur may request adequate assurance that the terms of the contract will be fulfilled. In the example above, the company purchasing goods may contact the manufacturer in writing to ask about the status of their order and when it will be expected to be completed. While waiting for a response, the company may suspend any payments they were required to make under the contract. If a response is not received within 30 days, this will be considered a repudiation of the contract.
If an anticipatory breach of contract occurs, the non-breaching party may pursue litigation to recover any damages it experienced because of the breach. However, this party will be expected to take all reasonable efforts to mitigate its damages and minimize potential losses. The non-breaching party will also have the right to refuse to complete any of its own contractual obligations that have not yet been fulfilled.
Contact Our Broward County Breach of Contract Lawyer
If you are concerned about a potential contract breach, The Elliot Legal Group, P.A. can help you understand your rights and legal options, and we will work with you to determine the best ways to minimize your losses as you address these issues. Contact our Surfside contract litigation attorney at 754-332-2101 to get legal help with contract disputes and other types of business litigation.
Sources:
https://www.investopedia.com/terms/a/anticpatory-breach.asp
https://www.law.cornell.edu/ucc/2/2-609
https://www.flsenate.gov/Laws/Statutes/2011/672.610