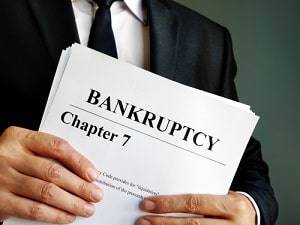 Finding yourself drowning in debt is never the place that anyone expects to see themselves a few years down the road. Unfortunately, life can serve you with unforeseen circumstances—an ongoing illness that requires regular treatment or the loss of a job and regular income—and you can quickly see your debts piling up. Filing for bankruptcy is often people's last resort; however, you may come to the realization that you actually do not qualify for bankruptcy. Depending on a number of factors, you may or may not be able to take this route when trying to get your finances under control. While it is always best to consult a bankruptcy attorney to know for sure, you may conduct your own financial analysis first to determine whether or not filing for bankruptcy is an option for you.
Passing the Means Test
There are two common ways to file for bankruptcy: Chapter 7 and Chapter 13. Chapter 7 bankruptcy involves the liquidation of your assets, then using these liquidated funds to pay off your debts. Not all assets are eligible, allowing you to keep a number of your assets in the process. Chapter 7 bankruptcy provides you with a financial fresh start once the legal process is complete. Sounds like a great option, right? While this type of bankruptcy is helpful for many families, not everyone qualifies to use its benefits. In 2005, a means test was created in order to make it more difficult for wealthy consumers to file for Chapter 7 bankruptcy. The test uses Florida's median family income for your household size as an indicator of your eligibility. In 2018, this income threshold totaled to $53,267 per household. In other words, if your household makes less than this amount, you automatically qualify for Chapter 7 bankruptcy. If, however, your household has a combined income that is higher than this amount, you will need to follow additional steps to determine your eligibility.
...