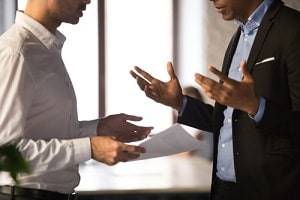 Years ago when you and your partner started your business, you were likely both on the same page. Perhaps you are family, best friends, or simply co-workers who came up with a brilliant business idea together. Whatever your outside relationship may be, when it comes to running a business, you must maintain a sense of professionalism, especially when arguments arise. Rarely do business partners agree on every decision being made, but some disagreements can become more contentious than others. There are four ways in which you and your business partner can settle a dispute, some of which can be done on your own while others require outside help.
1. Referring to Your Management Agreement
Those going into business together should always plan for future disagreements that are inevitable when it comes to business partnerships. It is impossible for you and your partner to completely agree on every detail of your work, which is why business partners are advised to create a management agreement before going into business together. If you have both been in business together for years, you likely created a management agreement and may not remember the exact details. Before taking steps forward, refer to your management agreement to see how you and your partner should be handling things. Perhaps you included a clause that required you to go to mediation or maybe one partner has veto power over the other. If you have a management agreement, this should be your first place to turn. If you do not have one, you can choose any of the following options.
...